Well, here I am. I'm finally at the finish line. It's the Z title of this challenge!! It's been a long time coming, and luckily it's now to a close. Oh how I wish it was on a bit of a higher note though. With a title literally meaning "Everyone's Unrequited Love"… well it's going to get a bit dicy.
The story starts in a radio studio who put out a call for love stories to be read aloud on the radio. The team is disappointed, but then plays into the fact that the six strongest stories are all unrequited love and roll with it. Zenin, Kataomoi is made up of six submitted stories, "My Nickname is Butachi", "Boku no Sabotin", "Something Blue", "Kataomoi Surprise", "Usotsuki no Koi", "Asahan no Yuge", and "Eve no Okurimono". Plus a seventh story about our radio personalities if you pay attention.
---
The best way I can describe this movie is like a Japanese take on the movie Valentine's Day (2010). Depending on how you feel about that film, that comparison could be a good or bad thing. I will say that Zenin Kataomoi has a better narrative structure. Instead of forcing couples' stories to overlap, the story is self contained starting with narration from the radio personality, the story is told in the reader's perspective, and then cuts back to the studio. It's significantly cleaner and keeps the stories from getting convoluted or illogical.
These stories are boosted by their individualized locations, lighting and more. I personally loved the beach setting that "My Nickname is Butachi" closed with. It was so rural, but so pleasing to the eye. "Usotsuki no Koi" had some brilliant usage of lighting to set the mood depending on the cast member and where they were in the relationship. This was both hindered and faltered by the camera techniques. "Boku no Sabotin" was painfully filtered nearly it's entire run and didn't have a single still shot. "Asahan no Yuge" did a lot with the intentional perspectives and camera work. Although it is worth noting that a majority of these stories use a LOT of filters, and camera was mostly handheld to my recollection.

What helps this anthology series is that, there's a lot of good talent in here too. You have fan favorites like Yokohama Ryusei, Shison Jun, and even Sakurada Dori in there being the male leads. Representing the ladies are a very young Hotta Mayu, Hirose Alice, and Shinkawa Yua. There's a variety of love stories being told, "Boku no Sabotin" focuses on the male perspective of unrequited love, "Something Blue" has a deaf lead character, "Eve no Okurimono" has an elderly woman as the main character, but her story told from a caretaker, even "Kataomoi Surprise" sticks out since it's a cross cultural and LGBTQA+ story. It's not a bunch of rinse and repeat, N likes M says nothing, M likes N and says nothing. Most of these stories actually do have confessions, or near confessions rather then just being painfully one-sided the entire time.
Unfortunately despite all these factors Zenin Kataomoi is a wash of a series. I understand this is about unrequited love, but I would expect some sort of chemistry between these leads in order to demonstrate why one fell for the other. Every story, no matter how it was framed or filtered, felt lukewarm at best. I never really got invested in any characters or story, since I more or less knew the ending even if my expectation was subverted.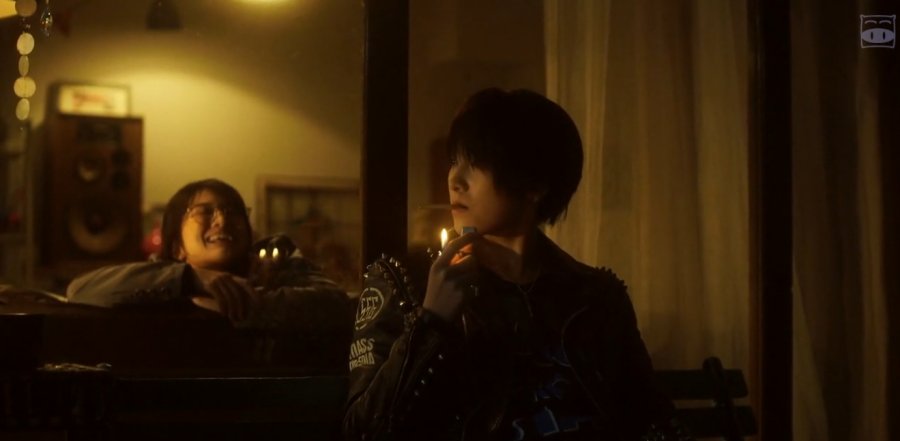 This would have worked better as a mini drama with episodes rather then a two hour movie. It's way too much content at once, and without a driving main storyline it feel even longer. By the time "Eve no Okurimono" wrapped and I was faced with the knowledge there was ten minutes left… I'll admit I rolled my eyes. I did not care about the final "story" because while it wrapped the story together, it was the biggest dud of them all.
That just about covers everything in regards to this film. I appreciated that it tried something a little different with the anthology take, but it really dragged by the end. If you're a fan of an actor/actress in particular do yourself a favor and just watch the story they're in and nothing more. Otherwise, as much as it pains me to admit you'd be better off watching any other romance anthology then this.